"The Woods Out Back" is the first book of this series.
Gary Leger thought life after college would bring great things. Instead, he's stuck in a dead-end job and finding that the real world isn't all it's cracked up to be.

But when he walks into the woods behind his house one day, Gary finds a world beyond the "real world"- a realm of elfs and dwarfs and witches and dragons. There he is the only one who can wear the armor of the land's lost hero- and wield a magical spear.

And if he doesn't, he can never go home again...

This is a different kind of book for R.A. Salvatore. It doesn't focus solely on the action. This book again is readable, but is not the best.


"The Dragon's Dagger" is the sequel to the acclaimed book, "The Woods Out Back."
Gary had longed to return to the realm of Faerie ever since the day he left. In that mystical world hidden behind his house, life was very different. But at least there was beauty, and peace.

But things have changed since Gary's last visit. The sacred armor and magical spear of the land's greatest hero are missing. A wicked king is threatening war on the villages. A banished witch is plotting a scheme. And a dragon who should be banished is burning up the countryside.

Now Gary must traverse the enchanted land to battle the shadows of evil. But this time his journey will take him where no man has gone before- into the lair of the dragon himself!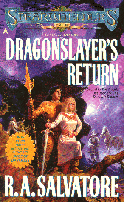 "Dragonslayer's Return" is the final book of "The Spearwielder's Trilogy."
It's been four years since Gary Leger slew a dragon and returned home from Faerie. And almost half a year since his father died. Ever since that fateful day, he's been aching to take his wife, Diana, leave Earth behind, and go back to Faerie to see his friends and get away from it all.

They wish he'd come back, too- and fast. The treat of war looms over the land like a dark cloud. The king is brutally suppressing his subjects, acting more ruthless than ever before. And the most powerful witch in Faerie, banished to a remote island, isn't letting that stop her from sowing the seeds of destruction.

Gary wants to escape responsibility in his own life. But Faerie's heroic dragonslayer once again has the fate of the world in his hands...

This book has a good storyline and is definitely once again, as always with Salvatore, worth a read.